"Libraries Exist to Serve the Sustainable Development Goals": An Interview with Barbara Lison
Libraries are key players in achieving the UN Sustainability Development Goals, according to Barbara Lison, President of the International Federation of Library Associations and Institutions (IFLA). We talked to her about the 17 goals, actionable steps librarians can take, and the importance of advocating.
This interview is part of a series that provides think pieces and resources for academic librarians.
In a world afflicted by numerous environmental and political crises, how can we ensure that future generations will continue to inhabit a healthy planet, enjoying peace and prosperity? The answer to this question unequivocally lies in sustainability.
In 2017, the United Nations introduced the Sustainable Development Goals (SDGs) to establish a global framework. These goals consist of 17 interconnected objectives that outline specific targets and indicators, serving as benchmarks for measuring progress towards a sustainable future. They hold relevance for each and every stakeholder in society – including libraries. These even have a particularly important role to play, says Barbara Lison, President of the International Federation of Library Associations and Institutions (IFLA).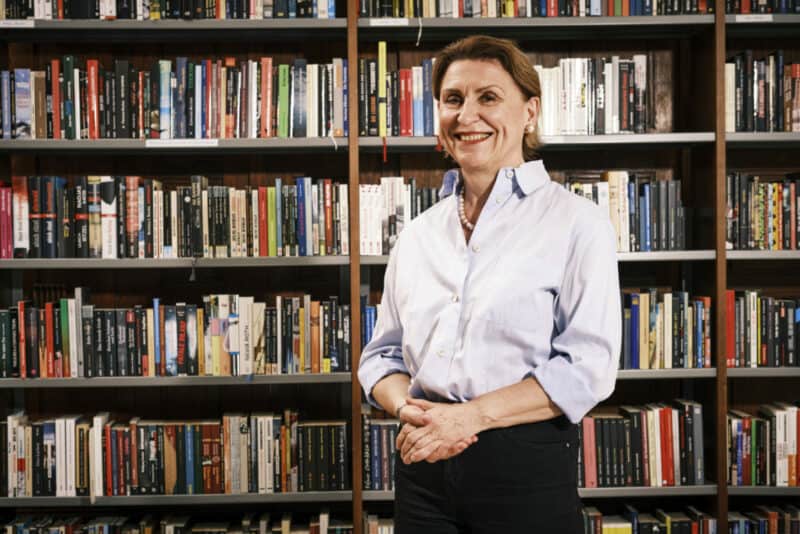 Why is that? Which SDGs specifically rely on the involvement of libraries? And what actionable steps can librarians take to contribute to the achievement of the goals? These are some of the questions we discussed with Barbara Lison, who, apart from her role as IFLA President, has served as the Director of Bremen Public Library for over three decades. In her work, she is particularly dedicated to library policy and the advancement of libraries for the future.  
The interview was conducted by Alexandra Hinz from De Gruyter.
Alexandra Hinz: Before we get into our main topic, can you tell us a little bit about IFLA and its objectives? 
Barbara Lison: Yes, IFLA is the voice for libraries. The national library associations are our core members, and institutions – mostly libraries – can be members, too. We have about 1,500 members, which might not sound like a lot, but behind them stand millions of librarians and thousands of libraries. The IFLA ethos is to represent the libraries, their interests, and the interests of their users on the international level. To this end, IFLA partners with international organizations such as UNESCO, ICOM, or IPA.
IFLA serves as a central point for library advocacy and also fosters professional development. With over 50 professional working groups, IFLA supports various types of libraries, including school, public, and national libraries, as well as specific areas such as document supply and supporting people with special needs. Additionally, there are special interest groups for newcomers in the profession and for artificial intelligence, and a group dedicated to tracking the latest developments in the library environment. 
In addition to the professional and advocacy tracks, IFLA has established a new orientation towards different regions. Previously, people from all over the world were involved in various working groups and advocacy efforts. However, IFLA has created six regional division committees, aligned with the United Nations' regional schemes. Each committee has their own working plans and serves as an intermediary between IFLA's highest governance and the national institutions and associations in respective regions.  
AH: One topic that IFLA is also dealing with are the Sustainable Development Goals (SDGs), which we want to talk about today. These goals consist of 17 interconnected objectives. Can you tell us which ones hold particular relevance for libraries? 
"None of these goals can be achieved without access to information."
BL: I would phrase it differently: For which ones are libraries relevant? The libraries exist to serve the goals, not the other way around. 
Our collaboration with the United Nations to integrate the library field into the 17 development goals was based on a fundamental premise: none of these goals can be achieved without access to information. Given that libraries are major players in the information field, they are essential in providing access to information to the individuals and organizations working toward these goals.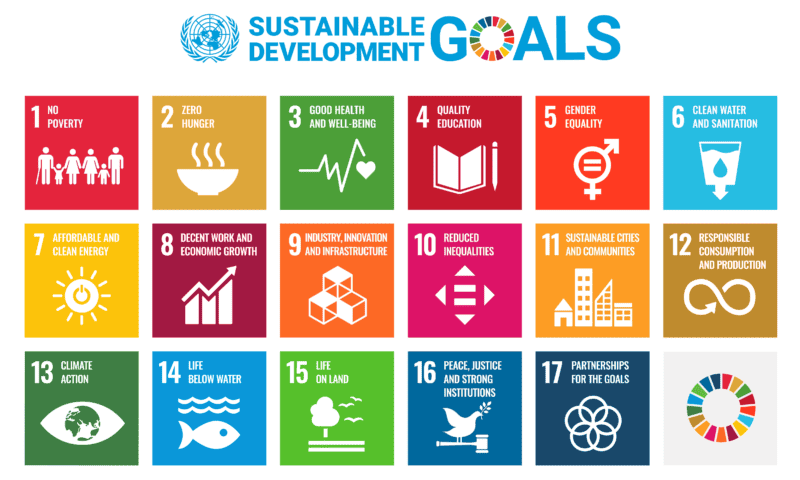 For instance, Goal 4, Quality Education, has always relied on libraries to provide information for education both within and beyond schools and universities. That has been one of the traditional roles of libraries. But Gender Equality (Goal 5) is also relevant, even Life Below Water (Goal 14) and many more. That's because the people who take care of these different topics need to have the right resources, and this knowledge is based on information that comes primarily from libraries.
There is one generic goal that brings it all together: Goal 16, Peace, justice and strong institutions. And sub-goal 16.10 states that free access to information is a basic precondition for reaching it. So, you could say that 16.10 is the library goal – that's us – even if libraries are not mentioned explicitly. One of the indicators that demonstrate 16.10 has been achieved is the presence of a constitutional right to free access to information in countries or the existence of a well-established process for ensuring free access. 
AH: What does IFLA do to support the SDGs? 
BL: One of our objectives is to raise awareness about the SDGs among the public, including non-library users. There are still countries in the world that are not well acquainted with these goals and do not actively work toward them beyond signing declarations. We have a Policy and Advocacy department at IFLA, which sends delegations, for example to the COP27 summit in Sharm El-Sheikh, Egypt. We also held a big workshop in Bangkok last November with participants from 15 different East and Southern Asian countries to demonstrate the value of the SDGs, and we visited the Bangkok branch of the United Nations for Southeast Asia. Of course, we also provide information about the SDGs on our website and via blogs and webinars to reach a wider audience.
"It's important for libraries and the private individuals behind them to ensure that their own behavior and administration align with the goals they promote."
Our aim is to raise awareness among library staff so that libraries can truly reflect the SDGs and know how to achieve them. A long time ago, before the SDGs even existed, we created the Green Library Movement. Today, the Green Library Movement is relevant to all SDG goals related to ecology. Many libraries are advocating with publishers for books to be delivered without plastic wrapping and working with booksellers to minimize unnecessary packaging. It's important for libraries and the private individuals behind them to ensure that their own behavior and administration align with the goals they promote.
Another task of IFLA is to advocate among politicians, decision makers and stakeholders – to highlight that we have been working on the SDGs for a long time, even before they were established. Since 2016, IFLA has been encouraging national associations to advocate for the SDGs in their respective countries. For instance, we brought this to the attention of the German Library Association, and talked with the German Cultural Council who had no prior knowledge idea about the SDGs. Now, they are constantly referring to them. We want libraries to be at the forefront of promoting the SDGs.  
 AH: What indicators are there that libraries have made it to the stage?  
BL: Libraries should be mentioned in the national programs for SDGs. Additionally, libraries should also be mentioned in regional and potentially even local programs, as many cities create their own plans for achieving the SDGs. The UN has established a forum where countries can voluntarily submit reports about their own efforts to meet the SDGs. Being featured in these voluntary national reports would be highly beneficial for libraries or library associations. Argentina, for example, is one of the countries that already explicitly mentions libraries in these reports. 
AH: Let's zoom in a little bit more towards the level of individual librarians. How can they support the SDGs, even if they have only limited resources? You've already mentioned plastic-free delivery of books. 
BL: Yes, that's correct. For larger libraries, it's recommended to establish a task force of several staff members who can become acquainted with the SDGs and determine how to incorporate one, two, or three of them in their work. In my library, this task force has set up an area in the back office to exchange surplus food such as when someone buys too much or when they have connections with caterers who regularly have leftover food. Instead of being thrown away, this food finds its way to the library, and our staff can help themselves to it.
"Any library can do this without extra money. It's a matter of motivation and awareness."
Additionally, every two months we have a clothing exchange. Staff members who no longer need certain clothing items bring them to a designated area in the back office, and other staff members can take what they like. These are some internal approaches.  Saving energy is also important, as it not only saves money, but contributes to achieving the SDGs. Of course, we also have to find ways to make libraries more inclusive because many of the goals aim at inclusiveness, for instance in terms of women's equality.
Check out our blog post "Six Ways to Make Your Library Greener"!
In general, librarians should examine the goals and figure out what they are already doing, what they are interested in, and what they want to do in the future. Any library can do this without extra money. It's a matter of motivation and awareness. 
 AH: Do you have a few more examples of libraries worldwide that you think are already making a significant impact regarding the SDGs? 
BL: In European libraries, there are currently a lot of activities related to inclusion and the integration of refugees. Many libraries in Latin America are focused on equality. Also in Latin American and African libraries, you'll find a lot of projects regarding healthcare and well-being. As a specific example, the Library of Congress in Argentina is highly engaged. They have gone beyond focusing on a single specific goal and instead incorporated the SDGs into their whole mindset. I have to say that while the United States and the United States Library became aware of the SDGs quite late, they are now more active and have understood the importance of the scheme.  
Many activities might have taken place without the Sustainable Development Goals, but that shows that libraries are big actors in achieving them. Every president has a theme and mine is: Libraries building a sustainable future.
"I hope that more advocacy activities of libraries will come to life."
AH: That's a perfect segue to my last question: Looking into the future, how do you see the role of librarians in sustainable development evolving in the coming years? 
BL: It's all related to the awareness and skills of librarians and how they increasingly bring forward their ideas. Librarians are hardworking yet generally much more modest than many other cultural professions. Libraries are one of the engines of the SDGs in many ways, and I hope that more advocacy activities of libraries will come to life. Libraries will only gain respect from political entities such as city authorities, cultural senators, and the cultural ministry if they actively demonstrate what they are doing. It's not sufficient for libraries to simply perform actions; they also need to communicate about them.
Learn more in this related title from De Gruyter
[Title image by Gizela Glavas/iStock/Getty Images Plus]