"I could imagine my ancestors smile" – Lonnie Bunch on the National Museum of African American History and Culture
The first African American Secretary of the Smithsonian and former director of the National Museum of African American History and Culture about the NMAAHC, museums and their role in creating inclusive national narratives.
A significantly longer version of this interview first appeared in the journal International Public History. Read it here.
Coming to work on that first day in July 2005, director Lonnie Bunch and his one member of staff, Tasha Coleman, found the door to the small office locked. It was suite 7102 of the office and hotel complex L'Enfant Plaza close to the Mall in Washington, DC, and no one was there to help. Bunch was able to convince a member of the maintenance staff to loan him a crowbar. He literally took things into his own hands.
The "break-in" is one of the many revelations Bunch describes in his recently published book on the creation the Smithsonian's National Museum of African American History and Culture (NMAAHC). The long and difficult journey reached its destination with the museum's dedication on September 24, 2016 in the presence of Presidents Barack Obama and George W. Bush. The broken doorframe – of which unfortunately no image exists – was a reminder of a rocky start, but it can also be seen as symbolic of the many obstacles that were to be overcome.
In his book Bunch describes in detail and in an entertaining and revelatory way that does not gloss over mistakes and failures the long process of deciding on a site, picking the architectural firm and the designers, the team of researchers and curators, the many meetings with politicians and possible donors, conflicts inside the Smithsonian, building up a collection, deciding on what to include in the exhibits and on the story lines, etc.
International Public History Editors Andreas Etges and David Dean (IPH) had the chance to interview Lonnie G. Bunch III (LB) on 17 September 2019.
IPH: In your book you frequently mention how stories you were told, meetings you had, objects you were given touched you emotionally and made you cry. Reading about that also brought tears to this reader's eyes. Can you share one or two of those moments with us?
LB: Because I had to travel so much to fundraise – over 497 separate trips – I was in every airport around the world and the one superstition I have is shining my shoes. I don't like to get on the plane without my shoes being shined. So, I know folks in every airport. And I was coming back from Texas, flying through Dallas. It was a stormy day, and I got my shoes shined. Normally when I go into a town, I try to get people excited about the museum, e.g. give interviews on TV. So the guy shining my shoes looks up and says "are you the museum guy from Washington?" And I said "well, yeah," and he doesn't say anything else, nothing. He finishes shining my shoes and I pay him, and he basically takes the money and then he says, "take it back and keep it for the museum." Now I got to be honest, he is a shoe shine guy, that guy can't afford to do that. So I literally pushed the money back and he said to me in no uncertain terms: "don't be rude to me. I do not understand exactly what is going to be in this museum, but it may be the only place where my grandchildren will understand what life did to me and what I did to life."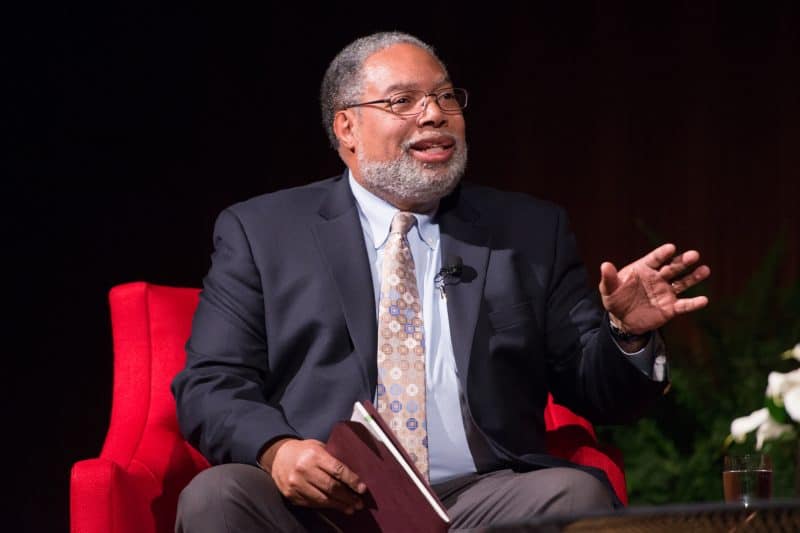 To me the success of the museum was tied to that aim. If I could make sure that those stories were told of average people who were really the strength of the movement of a people, of a country, then I knew I was doing right. That always kept me motivated.
"If I could make sure that those stories were told of average people who were really the strength of the movement of a people, of a country, then I knew I was doing right."
And the other one is just literally I can't walk down the street without somebody coming to me and saying "thank you for what you've done," sharing their own personal story and then hugging me and crying. Literally, yesterday, I went to the grocery store and this woman stopped me, my ice cream is melting, and she won't let me go, because she wanted me to know that she felt that the Museum allowed her to understand her mother for the first time. So, in a way it's really been much more than I could have ever hoped for.
IPH: When you were hired as the founding director, the museum owned zero objects. Today, more than 3500 are on display and of course many more are in storage. Can you tell us more about the decision to collect objects and have object-centered displays? As you know there are other museums like the Canadian Museum of Human Rights, that had very few objects and opted to become an ideas museum, telling stories through displays and interactive elements rather than objects. Why did you want to go the way of getting objects?
LB: I really felt it was important to think about "What does it mean for the Smithsonian to do a 21st century museum?" We actually had long conversations about it: well, we don't have collections, should we not make it all virtual, use the digital? But I felt really strongly that that would work in many places but not at the Smithsonian. At the Smithsonian you come to see the Greensboro Lunch Counter, the Ruby Slippers, the Wright Flyer, and I felt that if we didn't have significant artifacts we would be seen as second class.
I also wanted to stimulate a conversation in the country about history. And I thought that if we went around the country and help people preserve grandma's old shawl or that 19th century photograph that would, at a local level, stimulate that kind of conversation. So we needed collections. What I didn't know was how to find them. And I basically knew we didn't have the money, so I wasn't going to be able to buy them. And I knew that even if I went to everything the Smithsonian had they could only give me fifteen or twenty percent of what I needed. But I never wanted this museum to be the only place in the Smithsonian where Black artifacts resided. So that meant we had to go find new ways and that's when we "stole" the idea from the Antiques Roadshow and went around the country and people brought out their stuff and we found amazing art.
IPH: What are some of the most special objects that you now have on display?
LB: After one of these treasures programs somebody called me to say that he had material from Harriet Tubman the great abolitionist. Because I realized I could find things from average people, working-class tools or ID cards from black Rosie the Riveters during World War II, but I wasn't sure we could find stuff from people who were really crucial, pivotal figures in history. And when this guy called me and said he had Harriet Tubman material, I have to be honest, initially I said, well, you know, I'm a 19th century historian and there was just nothing available. It turned out this guy was a huge former football player and he begged me to come to Philadelphia. And when I did, he brought out this tiny little box – he was a big guy, like 6'5" – and he brought out this little box and he pulled out photographs of Harriet Tubman's funeral that no one had ever seen, and I'm suddenly amazed. And every time I would say "Oh, my goodness, I've never seen anything like that," he would get excited and he would punch me. That was the way he showed his enthusiasm. He pulled out thirty-three things and punched me every time. So, by the end, I'm crying and I'm not sure whether it is because of the pain of the punches or the amazing stuff we'd found. But then he pulled out a shawl that was given to Harriet Tubman by Queen Victoria in terms of a global recognition of what she had done. There is a famous picture of her wrapped in that shawl three days before she died. And there the shawl was in front of me. It was the most moving thing I think I could have ever experienced. And then panic hit me over: "Oh my God, he's going to want money, and I don't have any money" and so I danced around and finally I said "So, what is it going to take to get this to be part of the Smithsonian?" And he said: for you to carry the box with you when you go home. That kind of generosity is what happened over and over and over again and that's what I think made the museum special.
"The family kept that piece of paper and that tin wallet for five generations, but then they heard of the museum and gave it to us."
There is a second one that really moved me. There was a man named Joseph Trammell who was born free but had to register every year to get his freedom papers in Virginia. Without those freedom papers he could be sold into slavery and taken back. When he got his papers he realized he had to carry them on him all the time, and he was worried that hard labor and sweat might rip the paper. He was not very good with his hands and he created what he called a hand-made tin wallet, just a piece of metal that would protect the freedom paper while he worked every night. And when he came home – according to family lore – he would take the paper out and put it on the mantelpiece and talk to the family about freedom, the fragility of freedom, how important freedom was, how valuable freedom was. The family kept that piece of paper and that tin wallet for five generations, but then they heard of the museum and gave it to us. So, we were able to have stories about important people that you have heard about, but also these stories that really talk about freedom in an intimate, family-driven way.
IPH: Creating the museum also became a much more personal story for you than you had expected, even connecting you in different ways with your own family history. Can you also share some of that with us? And there's also the recurring theme in your book about the smiling ancestors.
Read the complete & unabridged version of this interview in the journal International Public History here.
LB: As a historian I never talked about ancestors, it was never part of the work I did in other projects, but when I came back to Washington to start the job somehow my ancestors were in my head. I could imagine my ancestors smile, and so for me it became this personal way of connecting with my ancestors, even though I have no idea who they are and I will never know. The most emotional moment for me, where it really hit me, was when we were at the opening and there all these famous people were on the stage – President Bush, President Obama, Chief Justice Roberts – and I'm feeling like, what am I doing up on that stage? And when it was my turn to speak I suddenly was terrified, really nervous, was the speech any good? Was I going to be able to do this? And as I got to the podium people were calling out my name – Lonnie Bunch. Now I'm Lonnie Bunch III so the notion was suddenly there that they were not honoring me they were honoring my grandfather and my father, people who lived lives and died but wanted to make the country better. And when I realized, or felt, that they were calling my father and my grandfather, all my nervousness went away. It was almost as if the notion of ancestors had come full circle. Here were people that I actually knew, were being honored by the work that we do.
IPH: The NMAAHC is the only history museum on the Mall that has a chronological narrative, tells the story beginning hundreds of years ago – and several floors down. That works very well.
LB: That was a conscious part of the decision and the struggle. I have never in my career crafted an exhibition that said people will follow it the way I wanted them to. But as we thought about the African American experience, we realized that most people didn't know much. But I didn't want visitors to work on the narrative, I wanted to give them a narrative so they would have to think about, "Oh, slavery is central to understanding America" and not: where am I going? How do I get from A to Z? It was really important, and it was a risk because nobody else in the Smithsonian does it that way. And I was worried a lot about a forced march" What I ultimately did was find a compromise. I gave you a forced march through three hundred years of narrative history. In the other areas there is a little more flexibility. But I felt that if people do not understand the narrative, then they are not going to get anything else. And I wanted people to realize that the transformation of a country was not a simple linear moment and if you had a victory that victory was at risk in the future. The way we built the ramps, it's not a linear march, it's up and back, up and back.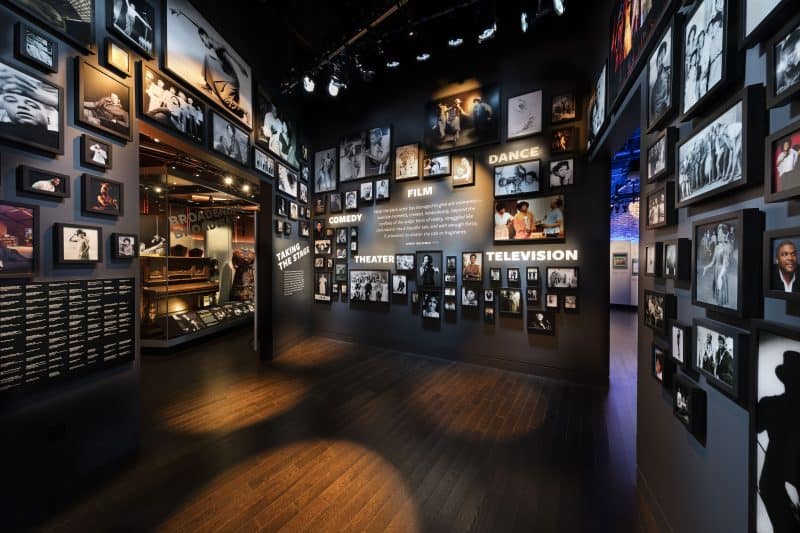 IPH: The exhibit is truly great, and the museum building is magnificent. But looking back, are there things you would do differently? Any missed opportunities?
"Not everyone in the Smithsonian wanted this to happen."
LB: Not everyone in the Smithsonian wanted this to happen. There was great support from some folks, but some worried, "Is this going to hurt the Smithsonian?" I probably should have done a better job of reaching out and collaborating, because once I heard that I said "the hell with them, it's us against the world." That probably made it a little more difficult to get the support we needed. The other thing that I would do differently would be that I would have pushed Congress and the Smithsonian to give more support early on. There was money I had to raise to even get people to do the pre-building design and I think I could have saved a couple of years if I had done that. Even if you raised private money there was no mechanism to make sure it would be matched. So every year I had to think in two different ways. I had to think about what to do to get capital money, building funds, plus how do I get money to hire staff? Because at a certain point you have to have people to do this work. It really was a juggling exercise, and there were a couple of years where I probably should have gone for capital rather than staff, but I was just trying to keep this moving. The most important thing for me was to show each year that there was some progress, because I felt that if I had a bad year, if we treaded water, if we couldn't reach a fundraising deadline, there were reasons for people to say "See, it's not going to happen" and we could lose support.
And regarding the building: The aluminum with the bronze patina is beautiful, but I should have demanded that the building ultimately would be all bronze, instead of listening to architects who had decided against that because of the weight. But in terms of the actual exhibitions, the people I hired, I wouldn't change it at all. I think we all grew by that process, and I am unbelievably satisfied because so many people got to shape it and make it what it is.
The complete & unabridged version of this conversation first appeared in the journal International Public History – read it here.
Learn more in this related title from De Gruyter
[Title image by Alan Karchmer NMAAHC]