Librarians Coping with Covid-19: An Outlook From Germany
We talked to Karl Krieg, Head of Acquisitions at Passau University Library in Germany, about challenges and opportunities for libraries during the Corona crisis.
This is the second part of an interview series on how libraries around the world are coping with Covid-19.
Karl Krieg started working as a librarian at the University of Passau right after graduating in Library and Information Science in 1980. While he hopes that Corona could make working with digital resources easier in the long run, the biggest challenge for him at the moment is to offer a good service despite the library being closed to the public.
De Gruyter: Please tell our readers a little about the University of Passau. 
Karl Krieg:  The University of Passau was opened in October 1978 and is the youngest university within the German Federal State of Bavaria. We currently have 12,000 students, approximately 1,500 of whom are overseas students, who are being taught in 4 faculties/schools across a range of buildings which are nestled along the banks of the river Inn.
Just over 50% of our students study at the Faculty of Arts and Humanities (Philosophische Fakultät), which has a strong research focus on Pedagogy and is also strong in teacher training. We are also well-known for Languages/Language Studies and for various Cultural Studies degrees which combine languages and interdisciplinary studies, including Law, Economics and others, for a specific geographical or linguistic region. Beyond these, we have the Faculties of Economics, of Law and of Computer Science and Mathematics.
The University's overall strategy is focused on technology, an example of which is a strong expansion in "IT law" within the Faculty of Law.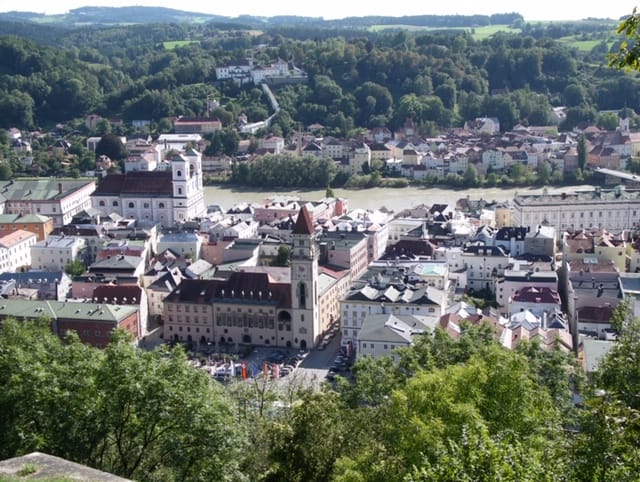 DG: What measures have you taken to help the Library function during the Covid-19 outbreak?
KK: The lockdown in Germany began in mid-March, which was during our semester break, with a ban of leaving your house for any purpose but essential travel. All shops and public buildings apart from food stores and pharmacies had to close. That included all of our university buildings and the Library. Some of the restrictions have been slightly lifted since, but we are still unable to open the University or Library to users and we have no idea when we might be able to do so.
The library staff have been given the option to work from their offices or from home, whichever suits better. Some tasks are only possible within the library building, and we have created schedules to ensure that only a certain number of staff are in the building at any given time.
I am lucky – I only live a 5 minute walk away from the library and have my own office. I have therefore chosen to work from my office all the time.
"This week marks the beginning of the summer semester, for which remote learning via the internet is being launched for the first time ever at our university."
This week marks the beginning of the summer semester, for which remote learning via the internet is being launched for the first time ever at our university. We are using ZOOM and first tests have shown that it can cope with online lectures of up to 800 participants.
To support the students and researchers better in this time, we have started a scanning service, because the reading rooms remain closed and both borrowing services and inter-library loan are currently unavailable. We are also putting a lot of effort into expanding our digital media portfolio.
DG: What have been the main challenges?
KK: I think at first it was difficult to take the invisible threat seriously, and for that reason it was difficult to make everyone comply with hygiene and distancing rules. Now that the Library is closed, the biggest challenge for us librarians is to offer a good service despite the difficult circumstances. We have to obtain new e-book licences within short timeframes, optimize the new scanning service and find ways of deploying and training the small numbers of staff available in the most efficient ways. Because some of our staff are working from home and others from the office we have to find ways to arrange meetings via video conferences that suit everyone.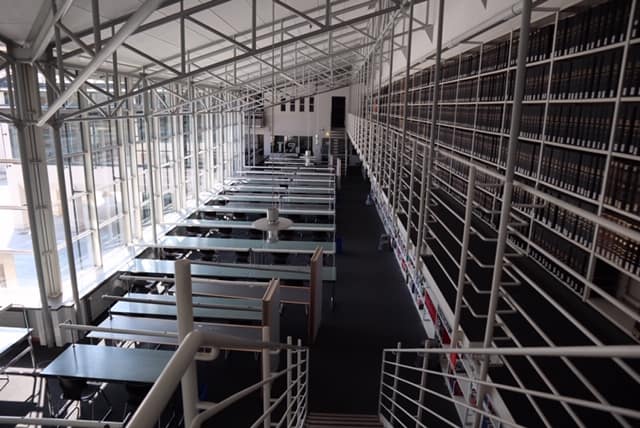 DG: How have publishers been helping you?
KK: Some publishers offer real help by making some of their digital products available for free for a few months or by making the parameters of EBA deals more generous, which is greatly appreciated.
However, the situation has also shown that – of course – the publishers themselves are affected by the crisis and therefore response times can sometimes be very long and service provision slower than we really need. Luckily, we had already signed three EBS agreements, including one with De Gruyter, so that a very good supply of e-books in the most important disciplines for us was already in place.
There certainly are some publishers who are trying to use the current time to generate more income, which is perhaps understandable, but not always welcome.
DG: Will the Covid-19 pandemic have any impact on changes for the future?
KK: Currently, people are often saying that the crisis will change everything, because it has forced us not only to be more innovative but also to learn things that we should have learned a long time ago.
"It certainly is positive that many people are now forced to or able to use video conferencing, but it has not necessarily improved the quality of the discussions."
I'm having mixed feelings, though, because I don't believe that corona will result in the appearance of a new kind of human being. I see too clearly that peoples' characters come out in an even more pronounced way during the crisis. Having said that, these innovations have a real chance to prove their worth. If they seem to succeed better than our previous ways of working, they may in future play a more important role in the Library, but only if they are allowed to. I fear that people who are inflexible and idle will not change because of the crisis and will again slow down progress as soon as they are in a position to do so.
It certainly is positive that many people are now forced to or able to use video conferencing, but it has not necessarily improved the quality of the discussions. It will be interesting to see what kinds of impact the crisis will have on the role of the Library within the University. In recent years our reading rooms have been very busy, even though we have mostly moved to providing electronic resources. Now students are being locked out of the Library and the reading rooms are closed. I think that most of them will come back and use the Library again once we can offer the necessary "safety". The human and social interaction which libraries have always excelled at providing are important factors; also, the excellent quality of our WiFi is now much more appreciated than the pretty books on the shelves.
DG: Tell us a little about yourself. What do you like doing to relax?
KK: I grew up in a small town near Passau. After gaining my degree in Library and Information Science in Munich in 1980, I started working as a librarian at the then newly-founded University of Passau, where I have worked ever since. In 2004 I became Head of the Acquisitions Department and am a member of various cross-departmental working groups within the Library. For over 10 years I have been a lecturer at the Bavarian Library Academy in Munich.
I was only briefly married and have no children nor pets but do quite like people and am always open for anything new. My main interest is literature; I was co-editor-in-chief for a literature magazine and I have been organising literature events and author readings in Passau for many years. Sometimes I myself write and recite my own texts, for example poems in local dialect. I enjoy going to the theatre, to concerts (jazz, blues, classical), to the opera and to exhibitions. Culture is food for me, so the crisis does not really present me with problems, because in my home I am surrounded by books and CDs.
DG: Is there anything else you'd like to say?
KK: I do of course hope that working with digital resources will become easier, more open and more creative because of this crisis. However, it will be difficult to achieve unless the disparate e-book policies of different publishers change. The current times make it particularly obvious that the diversity of systems, business models and terms have a catastrophic impact on the efficiency of acquisition and – more importantly – on user acceptance of digital resources.
DG: Thank you for your time!
This interview was conducted in cooperation with Goldleaf.
In order to support faculty and students affected by library closures, De Gruyter & our Publisher Partners are offering libraries free access to 75,000 eBooks on our website until June 30th. Librarians can register here.
[Title Image by Karl Krieg]