7 Different Ways to Write a Great Biography
Ever considered writing a biography? Individual decisions and circumstances shape life stories, but so do biographers. By adapting set patterns, writers determine public opinion of their subject's lives. Draw inspiration for a future project from this roundup of common approaches.
Journalists and media outlets love biographies, particularly when relatives or academics dispute the most controversial claims.
Some of the favorite topics are instantly familiar: Napoleon's downfall, Churchill's leadership, Diana's letters and her lovers, Sylvia Plath's relationship with Ted Hughes, the genius of Steve Jobs, and Alan Turing's sexuality. Each worthy of separate, in-depth discussion. Each a delicate balance between sensationalism and historical interest.
Of course, the trademark combination of gossip and mythmaking has given biography a bad reputation. For some, it seems too much like rummaging through the paper bin, looking for someone's bank statements or the shreds of a discarded missive.
Or else it seems like a dubious exercise in trying to draw life lessons from someone else's fame and success, which might have been coincidental or undeserved.
Laying the Groundwork
Researching a biography involves a lot of borrowing and persuading. Anecdotes, interviews, letters and public records are the standard ingredients of every book biography, film biopic, or feature 'based on a true story'. Getting hold of information may be difficult.
Relatives of the deceased may block access to the diary, friends of the family may demand cash for answering your questions, and obtaining permission to reproduce images will give you grey hairs. You may be overwhelmed by the quantity of books to plough through, or frustrated by the lack of data at your disposal.
"Composing the life requires speculation and interpretation. At times, you'll marvel at what your subject achieved. Sometimes you'll be disappointed by their actions, maybe even shocked."
Composing the life requires speculation and interpretation. At times, you'll marvel at what your subject achieved. Sometimes you'll be disappointed by their actions, maybe even shocked. If you're writing about a dictator or a criminal, you may struggle to strike a balance between humanizing and demonizing them.
If you're lucky, you'll stumble across something no-one else has found before and hope it makes waves. If you're underhand, you'll make an unverifiable claim and wait for the public outrage.
But let's assume that you've been principled. You've found a worthy subject, done the laborious work of searching through the archives and ringing through the phone book, read the relevant literature and thought about the ethical dilemmas. Now it's time to write, but where should you begin? How do you bring order to the chaos of a life?
1. Cradle to Grave
If in doubt, the 'cradle to grave' approach is your fallback option. Put your notes in order, get the chronology sorted, and start work. One by one, tick off the following from your list: birth, family background, childhood influences, schooling and education, early career, professional successes and setbacks, twilight years, death. Choose a first sentence a bit like this:
"Napoleon Buonaparte was born at Ajaccio in the island of Corsica, on the fifteenth day of August, 1769. He was the son of Charles Buonaparte, an advocate in the royal court of assize, and of Letitia Ramolini, a Corsican lady of great beauty, and of a good family, descended from that of Colalto at Naples."
As the conventional approach in Western book biographies for hundreds of years, this may sound like the easy option. Yet a chronological biography has its pitfalls. Expect gaps in the story, mysteries you'll never solve, and conflicting accounts.
Establishing causality is another dilemma and not only because it's tricky to prove links between particular experiences and later events. Strands of the story developing in parallel, encounters that only obtain significance many years later, and the after-effects of major turning points all pose a challenge to the apparent simplicity of this approach – also see our biographical piece on Emmeline Pankhurst for an example of the pitfalls and opportunities of a 'cradle to grave' story.
2. The Deathbed Departure
Like Agatha Christie, many biographers hold off checking the birth certificate by beginning at the end. Opening with a deathbed scene or the public announcement of the death is a ubiquitous variation on the 'cradle-to-grave' structure.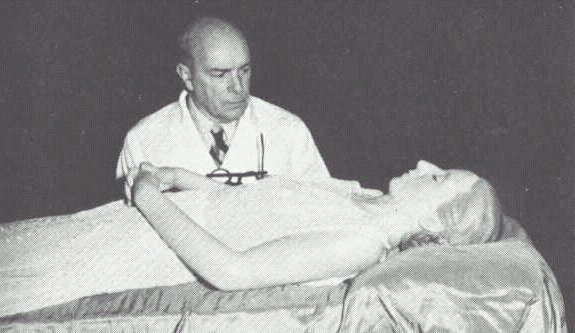 Think of the exaggerated public mourning in a Buenos Aires cinema at the beginning of the film adaptation of Evita, followed immediately by sepia-coloured evocations of Eva's provincial childhood.
By contrasting a dramatic demise with humble beginnings, you can immediately establish both suspense and a narrative arc.
3. Trace Your Steps
If your research process deserves a book of its own, or if your subject was hard to track down, you may want to put the biographical mechanics on display. Documenting the process of biographical research also allows you to write someone else's story in the first-person. By revealing your techniques and the problems you faced, you can mitigate for the inevitable causal leaps or puzzling gaps.
Literary historians like to cite A. J. A. Symons's The Quest for Corvo (1934), but it's a technique found in other genres, such as documentary theatre. For example, Ivna Žic's play Blei (2017) sees a young woman enlist her friends to reconstruct her grandfather's experience of the disputed Bleiburg repatriations of 1945, including video interviews, excerpts from books, and taped phone calls.
4. Make It Up
Plenty of would-be historical biographies contain made-up stories impossible to verify, such as the wholly speculative story of Shakespeare's encounter with Elizabeth I at Kenilworth, enthusiastically mythologized by nineteenth-century biographers.
"A short time previous to this, when our poet was in his twelfth year, and in the summer of 1575, an event occurred which must have made a great impression on his mind; the visit of Queen Elizabeth to the magnificent Earl of Leicester, at Kenilworth Castle."
Given biography's tendency to improvise with anecdotes and dodgy causal connections, critics say it's a kind of fiction masquerading as history.
You can make a virtue of a necessity by augmenting the historical sources, as in Edmund Morris's Dutch: A Memoir of Ronald Reagan (1999). Or else turn the practice of biography on its head by writing it as historical fiction, as in Hilary Mantel's bestselling Wolf Hall (2009). Familiar representatives of the genre include the films Amadeus (1984) and Shakespeare in Love (1998), both inspired by long-standing myths associated with the lives of Mozart and Shakespeare.
If you aim to popularize a life or just to convey the atmosphere of the times, then so-called 'biofiction' allows you to indulge your imagination and free the life story from the strictures of the historical record.
5. Change the Received Wisdom
Myths and legends proliferating? Promise a glimpse behind the scenes and unmask your subject with a revisionist biography. Celebrities' public personas – historical or contemporary – can easily deceive. By deconstructing appearances and identifying discourses, you can add academic sobriety to fiercely contested terrain, as in Sarah Churchwell's The Many Lives of Marilyn Monroe (2004).
You can also throw caution to the winds with a thorough debunking. This is the kind of biography that likes to offend. You can do damage to the subject's reputation (and possibly your own) by focusing on character flaws or allegations of a moral nature. You'll need persuasive evidence and a biographee long since deceased – that or a good lawyer.
"No man knew better than Johnson in how many nameless and numberless actions behaviour consists: actions which can scarcely be reduced to rule, and which come under no description. Of these he retained so many very strange ones, that I suppose no one who saw his odd manner of gesticulating, much blamed or wondered at the good lady's solicitude."
6. The Life of the Mind
Select a scientist or a philosopher for your project and chances are you'll be writing an 'intellectual biography'.
Following the development of ideas across a life, biographies of great minds can play an important role in public understandings of science. You'll also be looking at how institutions or cultural and historical contexts influenced your subject, how networks champion or resist particular ideas, and how even the best ones are greeted with scepticism.
Challenges include making the material comprehensible for a non-specialist and turning the genesis of complex thoughts into a compelling narrative. Feel free to do something inventive – Darwin's great-great-granddaughter Ruth Padel wrote a biography of her forebear in poems.
"In the brown-black gloam of closing-time

he meets his future colleague, a published

entomologist. 'I had no idea! So many thousand

different beetles within ten miles of home!"
7. A Single Chapter
Very often, society values a given life for a single episode within it. In 'History as a Poetess' (1943), Stefan Zweig calls these history's 'heroic, poetic moments'.
Reducing a life course to a representative year or two may depart from the genre's established conventions. But as James Shapiro has demonstrated in two books on Shakespeare, it gives you the chance to focus on what was most important in a life – or at least to make that case.
Collective biographies can do the same for groups. As in Lara Feigel's The Love Charm of Bombs: Restless Lives in the Second World War (2013), seeing how people's lives interweave and diverge enables a more personal and unexpected take on familiar historical events.
[Title Image by Ehud Neuhaus via Unsplash]