Air Pollution In Southeast Asia Is The Main Cause For Respiratory Disease In Children
According to the WHO, in addition to respiratory disease, one third of deaths from heart disease, stroke and lung cancer are due to air pollution. And Children in Southeast Asia are particularly at risk. Now, researchers have reviewed the relationship between air pollution and the risk of wheezing associated disorders in children in Southeast Asia.
Pollution is a global issue and most countries in Southeast Asia are now experiencing high levels of air pollution, particularly in urban areas where the annual mean levels have considerably exceeded the World Health Organization's (WHO) limits. In Vietnam, the air quality levels are already at an unhealthy level for sensitive groups of people such as children and elderly adults, and six cities in Myanmar are ranked in the top 3% of the most polluted cities in the world. Similarly, high concentrations of sulphur dioxide pose serious environmental problems in Bangkok. Not only critical in urban areas, air pollution in Southeast Asia caused by forest fires and agricultural burning is also of grave concern, especially for Indonesia, Malaysia and Singapore.
Children in Southeast Asia At Higher Risk Of Respiratory Conditions
Air pollution has been associated with respiratory illnesses and fatalities across the world. In Southeast Asia, people are exposed to much higher levels of air pollution, with children and the elderly, in particular, more vulnerable. With such high levels of air pollution, the effects of air pollutants on the health of Southeast Asian populations are likely to be significant. Research shows there is a wealth of evidence on the adverse effects of air pollutants on the respiratory system, especially in children and infants. These health effects vary from increased respiratory complications to asthma, allergies, pneumonia and bronchitis or decreased lung function.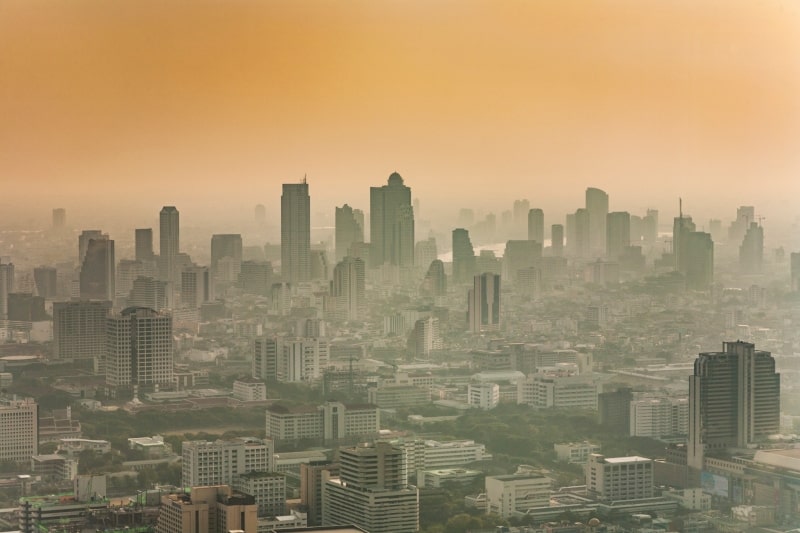 Leading Cause Of Hospitalisation Among Children Worldwide
To date, several reviews have been conducted to examine the effect of air pollution on respiratory diseases. However, there has not been a comprehensive analysis to estimate the severity and frequency of wheeze-associated diseases and disorders in children in Southeast Asia, which is one of the leading causes of emergency department visits and hospitalisations for children worldwide. Now, by combining multiple scientific studies, researchers have evaluated the relationship between air pollution and the increased risk of wheeze-associated disorders in Southeast Asian children. The researchers looked at eight studies for their review, which was published in Reviews on Environmental Health.
The quality of air is so poor in Southeast Asia due to the air pollutants omitted from several sources, including power plants, industries, road vehicles, the burning of biomass for crop fields and the use of fossil fuels for domestic cooking. The composition of air pollutants in these countries, the review shows is diverse and could differ considerably from North America and Europe where the majority of previous studies have been performed.
The studies included in the review were carried out mostly in low-income countries, where children are often exposed to air pollution at home such as smoke from biomass burning, or the use of tobacco products.
The review demonstrates a significant relationship between air pollutants and the increased risk of wheeze-associated disorders among children in Southeast Asian countries. In addition, it contributes to a greater understanding of the public health impact in the most polluted regions of the world.
"The number of studies conducted in Southeast Asia, however, is still small and more studies are needed from this region," say the authors.
Read the original article here:
Ly M.T. Luong, Peter D. Sly, Phong K. Thai, Dung Phung: Impact of ambient air pollution and wheeze-associated disorders in children in Southeast Asia: a systematic review and meta-analysis, 12.02.2019.